THE PROVIDENCE PHOENIX BEST MUSIC POLL 2003 BLUES/R&B ACT WINNERS
Young Neal & the Vipers: Rock around the clock.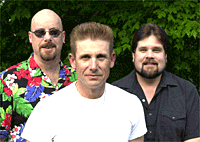 Young Neal Vitullo and the Vipers may be the hardest working men in show biz, and once again claim the title as Best Blues/R&B Act. Singer/Songwriter Vitullo has been dishing balls-out roadhouse rockabilly blues for more than two decades, particularly in a live setting, ripping it up more than 200 nights a year for crowds that thrive on the trio's fervor. Vitullo is a master of the '58 Stratocaster, nimbly saluting longtime idols such as Johnny Copeland, B.B.King, and Howlin' Wolf, and has shared the stage with plenty of legends, including six-string deity John Lee Hooker. We're pretty sure that the over whelming response in our poll was from those affected by the infectious live gigs. The proof further lies within solid recordings and a timeless back catalog, namely the appropriately titled Industrial Strength, chock-full of meaty riffs and toe-tapping rhythms. Tracks like "30 Miles Out" display a feverish chug, with Vitullo's distinctive vocals exploding on the chorus. Still not a believer? Check out some upcoming live shows sometime soon!!
-- Chris Conti
Young Neal and the Vipers, Young Neal and the Vipers, Young Neal, Young Neal, Young Neal and the Vipers, Young Neal and the Vipers, Young Neal and the Vipers, Young Neal and the Vipers, Young Neal, Young Neal, Young Neal, Young Neal & the Vipers, Young Neal & the Vipers, Young Neal & the Vipers, Young Neal & the Vipers, Young Neal & the Vipers, Young Neal & the Vipers, Young Neal & the Vipers, Young Neal & the Vipers, Young Neal & the Vipers, Young Neal & the Vipers, Young Neal & the Vipers, Young Neal & the Vipers, Young Neal & the Vipers, Young Neal & the Vipers, Big Noise, Big Noise, Big Noise, blues, bios, guitarists, guitar, guitar heroes, lyrics, concerts, sound clips, catalog, discography, digital side of the moon, blues, independently released music, indie music, indie artists, recording artists, bands, compilation, box set, CDs, demo submissions, song slam, new releases, Big Noise, pop, adult contemporary, video clips, Young Neal and the Vipers, Kingsnake Records, Young Neal Vipers, Neal Vitullo, Hub O'Neil, Mike LaBelle, Played For It, Elegant Edibles, salad records, Dave Howard, High Rollers, Captain Neal, Sport Fishing, SaladRecords, Guitar, Blues, Rock-a-billy, American Roots Rock, Live Music